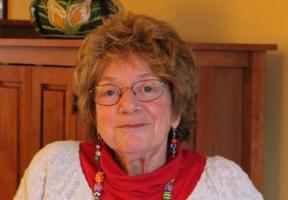 Lois Bass transitioned peacefully on December 30, 2021 in Longmeadow, MA after a short battle with pancreatic cancer. She died just over a week after her 74th birthday, supported by many loving friends and family as well as the very kind staff at JGS nursing home.
Born on December 21, 1947 in Queens, NY to Max and Ruth Bass, Lois was the child of second generation immigrants and held a deep respect for her Jewish roots. Like her ancestors, she was a trailblazer– raised as much by her family of origin as she was by the music and culture of her childhood, and the vibrant family of friends she surrounded herself with.
She attended Martin Van Buren High School, the University of Massachusetts, and earned her Master's of Social Work from the University of Michigan. Lois never stopped learning—about herself, her profession, her community and the world. An expert in Somatic Experience Therapy (SE) and the Trauma Resiliency Model, she taught classes at Smith College School of Social Work in diversity and anti-racism, and ran a psychotherapy practice for over 30 years. For many years she delighted listeners as a disc jockey on WMUA where she played songs of struggle and peace along with music from her childhood and her many international travels. She often took requests from her audience, honoring their life events through music.
When Lois set her mind to something, she found a way to make it happen. In 1982, she (and her former partner, Judith Evans) became one of the first lesbian couples to conceive a baby via artificial insemination, a novel technology for the time. A proud mother (and grandmother), she paved the way for many same-sex families that came after her. An activist, a speaker, and an all-around badass, her commitment to social justice was represented through every aspect of her existence–her art, music, work, and way of being. After Hurricane Katrina, Lois traveled to New Orleans to support First Responders, and later taught SE to clinicians internationally. Lois didn't simply visit a place, but truly immersed herself in the experience of being there. She left this earth with many close friendships around the world.
Lois is predeceased by her parents, Max and Ruth Bass, and her sister Sally Bass Hoffman (2010).
She is survived by her daughter Gwen Bass (Elizabeth Solomon), her stepson Dan Evans (Gayle Evans), her 5 grandchildren Noah Evans, Eli Evans, and Mataya Bass, Michael Bass, and Jonah Bass, her sister Norma Bass, niece Abbe Hoffman (Daryl Sichler), and nephew Jesse Hoffman (Stephanie Hoffman).
The family will hold a virtual memorial service on Thursday, January 6, 2021. Please check Lois' facebook page for details.
https://csulb.zoom.us/j/83042571136?pwd=SmQ4cUM2SXVnZ1NuZGUwb21ibk41Zz09