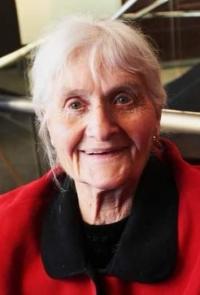 Sophie (Maturniak) Rajter passed away on December 28, 2021 in her home in Amherst on the street where she lived her entire life. She was born August 18, 1927 in Amherst to Hrynko and Anna (Baraniuk) Maturniak, immigrants from the Ukraine. Sophie graduated from the Amherst School system. Sophie worked throughout her life. She was "discovered" picking tobacco in Hadley by a local physician/benefactor who employed her and, in return, help pay her way through Becker College where she graduated in 1947. She began her professional career at Memorial Hospital in Worcester and then at Amherst College in various departments over the years, most notably as a Research Assistant for Professor Oscar Schotte in the Biology Department.
She loved polka music and met her husband Stanley Rajter at local polka dances in Sunderland and Hatfield. They were married in 1950 and continued to live in Amherst. They had 3 daughters- Georgianna, Deborah, and Susan. Stanley and Sophie traveled in their RV across the US and loved to vacation on Cape Cod.
Sophie was predeceased by her loving husband "Stashu", brothers George Maturniak and Michael Matoniak, sister Helen Wright, grandson Jarrad Parkin and son-in-law James Tymkowiche. After Stanley's passing in 1991, she continued in her independent ways by staying in her own home and managing several rental properties despite her advancing years. Until the pandemic, she swam daily at her local health club and didn't give up driving until 2020. After that she loved long rides throughout the New England countryside with her daughters or niece Helen Wright.
Sophie leaves her daughters Georgianna Parkin (Bruce) of Shutesbury, Deborah Tymkowiche of South Deerfield and Susan Hart of Northampton.
She also leaves her grandchildren Kelly Tymkowiche, Dan and Sam Hart, Jennifer Sormanti and many nieces and nephews.
Due to Covid restrictions, graveside service and burial are private. In lieu of flowers, contributions can be made in Sophie's memory to VNA/Hospice of Cooley Dickinson Hospital,The Amherst Survival Center, Dakin Animal Shelter or any local charity of your choice. Douglass Funeral Home of Amherst is handling Sophie's final arrangements. Memorial guestbook at www.douglassfuneral.com