Posts Tagged 'RAY GIRARDIN, RAY GIRARDIN obituary, Funeralworks Obituary, Douglass Funeral Service'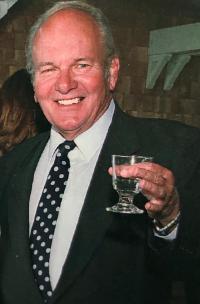 Ray Girardin, Actor, took his final bow on Feb. 28, 2019 in Amherst, MA after a mercifully short battle with Alzheimer's disease. Ray is survived by his wife of 57 years, Marlene, his son Michael of Vancouver, Canada, his beloved baby sister Nancy Benjamin and her husband Gary of Newton, NH, and brother-in-law Norton Juster, also of Amherst.
Ray was predeceased by his son Donny, sister-in-law Jeanne Juster, and younger brothers Allen and Ronald Girardin.
In addition to his immediate family, Ray leaves behind a cousin, Patty Maynard of Northampton as well as numerous nieces and nephews, with a special acknowledgement to Emily Juster and her daughter Tori, who not only adore Ray and Marlene, but who've also been steadfast neighbors who never fail to lend a cheerful helping hand whenever needed.
Raymond George Girardin was born Jan. 23, 1935 in Wakefield, MA, and graduated from Wakefield HS, followed by a 2-year stint in the Marine Corps. Upon his honorable discharge, Ray attended and graduated from Boston University's renowned Theater Department. While at B.U., Ray appeared in numerous campus productions, while spending summers performing in countless stock theaters.
After graduation, Ray moved to New York to further his acting career and within a year he gave what is surely the greatest performance of his life by meeting and somehow convincing the beautiful and vivacious Marlene to be his wife. The young newlyweds soon set out for Hollywood, where after a few sparse years of guest appearances on various television series, Ray landed a role that thrust him into living rooms and Soap Opera magazines everywhere…that of the ne'er-do-well Howie Dawson on General Hospital.
Ray relished that part for seven years before deciding to pursue other opportunities, and subsequently accumulated a vast and impressive list of appearances. In television, a few of his credits include Law and Order, multiple episodes of The Rockford Files, Murder, She Wrote, Remington Steele and many others. On the comedy front, Ray's appearances included The Bob Newhart Show, Happy Days, Mork & Mindy, and was a series regular on The Flip Wilson Show.
On the big screen, Ray had featured roles in films including Dad (with Jack Lemmon) Love Affair (Warren Beatty), Loverboy (Patrick Dempsey), as well as co-starring in the films Gospa with Martin Sheen, and in the burgeoning cult favorite Hollywood Man, which he wrote with his friend and co-star, William Smith.
Ray was an "actor's actor" and a proud member of SAG-AFTRA and Actors Equity for over 50 years. And though he weaned himself from performing after relocating back to the East Coast, he found great joy and a good deal of praise for mentoring and nurturing a new generation of young actors as the director of a slate of successful plays at the Academy Theater at Orleans on Cape Cod.
So "Bravo!" Ray, on a life well-lived and thoroughly enjoyed. And while you're no longer with us in the flesh, your large and buoyant spirit lives on and will continue to bring smiles to your family and friends on both coasts whenever we think of our "Big Play Ray."
If you would like to make a donation in Ray's name, please go to www.actorsfund.org