Posts Tagged 'LLEWELLYN MCKENZIE, LLEWELLYN MCKENZIE obituary, Funeralworks Obituary, Douglass Funeral Service'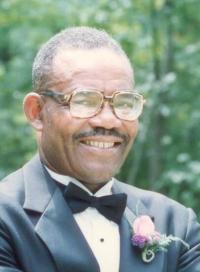 Llewellyn McKenzie
A Hard Working Jamaican Who Achieved the American Dream
Amherst, MA – Llewellyn McKenzie died on September 15, 2012, following a short illness. Son of the late Silas McKenzie and Lydia (Thompson) McKenzie, Llewellyn was born in Clarendon, Jamaica, British West Indies. Mr. McKenzie leaves his wife Joy (Samuels) McKenzie; his three sons Llewellyn Jr., Peter, and Paul, all of Springfield, MA; his niece Sharon Miller of Florida whom he adopted as his daughter, five grandchildren; three great grandchildren; and his devoted god daughter, Maureen Raab of Amherst.
Llewellyn McKenzie learned diligence, perseverance, and hard work as one of ten children who labored on their widowed mother's Jamaican fruit, coffee, and sugarcane plantation. After graduating high school, Llewellyn went to trade school for training in carpentry and furniture making. His first job was in Kingston as a mason. Then Llewellyn found a labor contract picking tobacco in Connecticut, and he came to the United States to work.
Llewellyn McKenzie sent home to Jamaica a good portion of every week's pay starting with his first job and lasting through the rest of his life. He saw opportunity for prosperity in American and soon applied for a Visa to stay. He worked for Monsanto Chemical in Springfield, MA.
Mr. McKenzie both married his first wife, Emma Campbell and received his draft notice for the Korean War in 1953 and they had three boys in five years. Mr. McKenzie was trained at several bases and learned many important skills but the war ended in 1955 before his infantry was called to serve.
Mr. McKenzie married his second wife, Thelma White in 1965.
Llewellyn McKenzie was driven to achieve the American dream and through hard work slowly moved up the career ladder at Monsanto from being a janitor to being in charge of important press operations. Besides his career achievements, signs to him that he'd "made it" were his ability to buy his fine home Amherst, and his ability to own a nice car. Llewellyn McKenzie was a hard working, proud and happy man.
Llewellyn McKenzie most valued his success in America because it enabled him to help others get ahead.
Mr. McKenzie will be remembered for his incredible generosity. Beyond taking care of extended family in Jamaica throughout his entire life, he has supported local struggling families; supported innumerable charities; and mentored many area students.
Having come from the country of Jamaica, whose motto is "Out of many, one people," McKenzie saw the world as one people and embraced diversity. He had pen pals from around the world and was especially active in helping Cambodian families assimilate in Amherst economically and socially.
When Mr. McKenzie was laid off from Monsanto in 1992, he could not be idle. He became a parking enforcement officer for the Amherst Police Department. He more resembled a Jamaican police bobby, however, with his pith hat, Bermuda shorts, and knee socks.
Llewellyn McKenzie very much enjoyed spending time with local farmers discussing the merits of different crops. He was an excellent cook.
Llewellyn McKenzie believed in individual achievement, freedom, and prosperity. He never took anything for granted and he tried to impart lessons of self-improvement and hard work on the many who admired him.
Besides his stylin' parking enforcement officer's uniform, people in town will most vividly remember Llewellyn McKenzieriding around town, looking like a fine gentleman, in his mint condition (yet teal colored) 1966 Oldsmobile 88.
The "Unofficial Mayor of Amherst" was much loved and will not soon be forgotten.
Funeral services will be held on Monday, Sept. 24, at 9:00AM at the MA Veteran's MemorialCemetery in Agawam with burial to follow. Calling hours will be Sunday, Sept. 23, from 5-8 p.m. at the Douglass Funeral Service, Amherst.
Donations in memory of Llewellyn McKenzie can be made to the Cambodian Water Project. Donations may be sent to 124 Logtown Road, Amherst, MA01002. Obituary and memorial register at www.douglassfuneral.com.
Full service details, Memorial Guestbook and Slideshow and sharing features are available here.