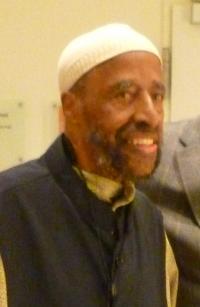 SHUTESBURY, Dr. Yusef Abdul Lateef of Shutesbury, Massachusetts, passed away Monday, December 23, 2013 late morning. He passed peacefully at home with loved ones at the age of 93.
Dr. Lateef was a five college professor of music and music education from 1987-2002 and well known for his support and mentorship of up and coming artists. Dr. Lateef was a 2010 recipient of the National Endowment for the Arts Award. This Grammy award-winning composer and musician's career began in the 1940s and has continued with touring and performing worldwide until summer 2013.
His biography, The Gentle Giant, by Herb Boyd, aptly describes his patient, soft-spoken demeanor and compassionate heart. Dr. Yusef Lateef was a devout member of the Ahmadiyya Muslim Community since 1948 and had performed the Hajj (pilgrimage to Mecca) on two occasions.
He was predeceased by his wife Tahira Lateef, a daughter and a son. He is survived by his second son Yusef Lateef, current wife Ayesha Lateef, granddaughter Iqbal, as well a host of great-grandchildren.
Calling hours will be held on Thursday, Dec. 26, from 3-5:15 p.m. with Janaza prayers at 5:15 p.m. at the Douglass Funeral Home, 87 N Pleasant Street Amherst. Obituary and memorial register at www.douglassfuneral.com.
Service details, Social networking, Memorial Guestbook and Slideshow are available here.