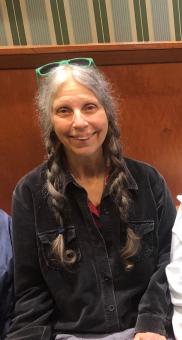 Joanne Mary Rella died July 22, 2020 at age 69. She is not quite sure where her journey will now take her.
Joanne leaves behind her intimate loved ones, her husband, Robert Brooks of Amherst, daughters, Shubhada Rella-Brooks of Hadley and Ketaki Rella-Brooks of Springfield, grandsons Ravi Drake and Theodore Oakes-Rooney of Hadley, siblings John Rella and his wife Pat of Hadley and Elizabeth Mirra and her partner John of Yonkers, NY, and close friends in the Valley and across the United States. She was predeceased by her parents, Maria and Onofrio Rella, and siblings Vincent, Charles, James and Lucia Rella.
Joanne valued her relationships with people more than anything. Sharing a story, appreciating nature together, and feeling the oneness of spirit was her sometimes elusive but ever satisfying experience. She touched many people's lives through both her personal and professional life as a mother, friend, special education teacher, counselor, and neighbor. Joanne felt enriched by the lives of those around her. Her life embraced an awareness and involvement in the world and in her community to strive towards a higher quality existence for all.
Joanne loved gardening, hiking and camping, listening to music, art museums and galleries, and being with family and friends. She knew that her soul could resonate during these activities when her mind would become still. She sought truth and oneness in her life. She lived each day trying to remember her commitment to being in the moment. Needless to say, she started her day over many times.
Joanne will be cremated. Family and friends will gather at future dates to share their memories of Joanne and to spread her ashes in favored natural areas. Those wishing to make a memorial contribution in Joanne's name should consider the Alzheimer's Association, Cooley Dickenson Hospital, or Hospice at the Fisher Home.