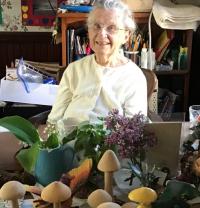 Martha Louise Fellers was born in Northampton, Massachusetts in 1926 to Carl Raymond and Josephine (Sanders) Fellers. She graduated from Amherst High School in 1944 and received her B.A. degree from Smith College in 1948. She went on to the University of Massachusetts in Amherst, and received a M.Ed. (1950) in education which she used to teach children, first in FL and later in CT.
Warren Averill and Martha Fellers of Amherst, MA were married in June of 1948. They had an amazing 70 years together. They raised four children, Stephen (1953), Anne (1954), Paul (1962) and Martha (1964). She is survived by her children, along with 6 grandchildren and 3 great grandchildren. Warren and Martha lived in Florida, Massachusetts, and New Hampshire before settling in Weston, CT for 25 years. Martha delighted in raising her children and working as a reading teacher. Her many retirement years were spent in Amherst, MA. She spent many hours studying and collecting antique glass, postcards, and books. She enjoyed many summers in North Eastham on the Cape and served as a trustee for the families' Cape Cod trust for close to 40 years.
Martha was a well-loved wife, mother, grandmother and aunt. She enjoyed a long, full, life and was able to travel extensively in later life. She traveled with her husband, Warren, all over the United States including California, Hawaii, and the Smoky Mountains. She was lucky to have memorable family trips to London, Paris and Ireland, as well as Rome, Venice and Pompeii.
A graveside service will take place on Monday, January 13th at 10am at the St. Brigid's Cemetery in Hadley.