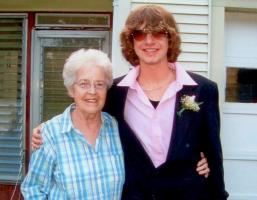 Amherst, Barbara J. Therrien left this world on June 26, 2018 at the Elaine Center of Hadley. She was 91 years old.
She was born in Amherst on March 5, 1927 to the late Guy and Anna Belden. Barbara married Alfred Therrien and raised three children in Amherst. Richard predeceased her in 1980 and Ronnie in 1994.
Barbara is survived by one daughter, Cheryl Waterman. She is also survived by one sister, June Ducharme of New York and one daughter-in-law, Christine Therrien of Texas. Barbara lived with her daughter Cheryl and son-in-law Thomas Waterman in Amherst.
Barbara had five grandchildren: Noel, Matthew, and Michael all from Texas and Melanie LaRochelle and Cody Waterman who predeceased her in 2015. She has 7 great grandchildren: Coldy, Chelsea, and Tanner Therrien and Nathan Wilson, all from Texas and Kayle, Torrie, and Brennan LaRochelle, all from Holyoke, MA. She also leaves four great great grand children: Trinity, Rayleigh, Braxton, and Oliver, all from Texas. The Newest addition is James Baily Jackson of Belchertown.
Following Barbara's wishes, there will be no services.