Archive for the 'Obituaries' Category
Amherst, John Allen Carroll of Frederick, MD passed away November 9, 2016. Born in Cortland, NY on April 5, 1969 to the late John J. Carroll and Eleanor Allen Horner, John attended Amherst (MA) Public Schools and High Point University. He was employed by Greenbriar Veterinary Hospital and Pet Resort. In addition to his mother, John is survived by his sister, Elizabeth, his brother-in-law, nieces, and many aunts, uncles and cousins. Calling hours will be Saturday November 19, 2016 from 10:00 AM – 12:00PM at the Douglass Funeral Service, Amherst. Burial will follow in St. Brigid's Cemetery, Hadley. Memorial contributions may be made to: Homeward Trails Animal Rescue, P.O. Box 100968, Arlington, VA 22210 (homewardtrails.org).
Amherst, Kenneth William Denno of Amherst, MA passed peacefully away Tuesday at the age of eighty after a long period of declining health with his wife Barbara at his side. He was a loving and loyal husband, and a proud father and grandfather. Ken was born to Frank R. and Mary F. Denno (nee Dec) in Northampton, MA on November 4, 1936. He grew up in a small house on Fort Street. Later in life, he would often reflect on his childhood there, where he worked and played in the Meadows and along the banks of the Connecticut River. Ken loved to tell stories to anyone who would listen. His friends and family often heard about his difficult Depression-era upbringing, his paper route, his work in retail shops in the center of Northampton as a young man, and his eventual career as a the owner of his own plumbing and heating company. Work was an important part of his identity. Ken took great pride in his ability to solve challenging technical problems and in his craftsmanship. He believed that any job worth doing, was worth doing well. He passed the trade on to his brother, Neal, and to his longtime employee, Mark Downey. Ken prided himself on his commitment to learning and education; he graduated from Northampton High School and earned a bachelor's degree from UMass Amherst as an adult, while owning and operating his own business and fulfilling his responsibilities as a husband and father. Ken loved books and was an avid reader who believed that money spent on a book was always money well-spent. He read voraciously and widely throughout his life. He also loved computers and technology, films, humor, painting and drawing, bowling, skiing, and golfing; the latter sport was particularly important to him, as were the group of friends he most often played with until he was no longer physically able to do so. Ken leaves behind his wife of 59 years Barbara (nee Nanartonis), son Paul, his wife Patricia and grandchildren Madelaine and Maxim, and son David and his partner Heather Cripps, and granddaughters Elena and Penelope.
Hadley, Michelle Searle, 42, of Hadley passed away peacefully, Wednesday, November 9th, 2016 surrounded by her loving family. Michelle was born on October 31st, 1974 and was a graduate of Hopkins Academy in Hadley in 1993. She devoted her life to helping children and was a foster mother to many. She provided a loving home to kids who needed a second chance, and she would never refuse to help anyone in need. She was pre-deceased by her father Joel Searle; she leaves behind her mother, Mildred Searle, Sister Amy Searle, 2 sons, Noah and Devonte Searle, Aunt, Barbara Hendricks, "sister" Margaret Orsini, "brothers" Chris and Nick Orsini, and "nephew" Dominick Orsini. Calling hours will be Monday November 14, 2016 from 5:00 – 8:00 PM at the Most Holy Redeemer Church Parish Center, in Hadley. Funeral services will be held Tuesday, November 15, 2016, 10:00 AM at the Parish Center. There will be a private burial for family members at a later date. In lieu of flowers memorial donations in Michelle's name may be made to: The Michelle A. Searle Scholarship Fund, C/O Florence Savings Bank 377 Russell St. Hadley, MA 01035.
Amherst, Mary Lester Beall was born in 1927 in Baltimore Maryland. When the Great Depression forced her father to close his home construction business, she and her family returned to their roots in of Saratoga Springs NY. Her Father (Dudley Gove Lester) ran the Saratoga Vichy Company for many years and Mary grew up along side her beloved sister Nancy.
In 1955 a mutual friend arranged for Mary to meet an eligible bachelor named Harry Beall for dinner in New York City. After a 6-week courtship, they were engaged, soon married and spent the next 58 years together. Harry was the love of her life.
Mary's professional career started after she received a Masters in Library Science, as the personal Librarian for Charles Houghton, the founder of Steuben Glass. She also worked at the New York Public Library. After a decade or two spent being a mother, Mary became the Program Director at the Englewood NJ Public Library.
Her greatest joy came from being a consummate wife, friend and mother. Her beloved Harry spent 35 years in the business of classical music. They spent several years split between winters in Boston and summers at Tanglewood, in Lenox MA, while Harry was the press director for the Boston Symphony. In the mid 1960's, when Harry returned from a day trip to New York, with an attractive job offer, he said to Mary, "Do you want to move back to NYC?" to which she replied, "Give me 20 minutes" Mary always new what she wanted.
From the mid 60's until Harry's retirement in 1992 Mary supported her husband, as he looked after classical musicians including Lily Pons, Clifford Curzon, Gary Graffman, Jessye Norman and the Guarneri String Quartet, who he managed for 35 years.
They retired to Western Mass in 1992, when they bought a restored church, on top of a hill, in Shutesbury Mass on a whim and spent the last 25 years together making new friends in Western Mass.
Mary was never whole again, after she lost Harry in April of 2015. This week would have been their 60th wedding anniversary and who's to say that they might not be celebrating together again now.
She is survived by her son Martin, his wife Jane of Midlothian VA, her son Andy, his wife Hut of Pelham MA. Three beloved Grandchildren; Chris and his wife Caitlin, Alex and Charlie.
Mary had many happy summers at Camp Runoia in Maine with her sister Nancy, cousins and friends. The camp helped form Mary into the person we all loved. She would break into the Camp Runoia's theme song at the slightest provocation, so anyone so inclined might send a donation to Camp Runoia, C/O Jody Sataloff, 9 Birch Knolls, Cape Elizabeth, ME
Mary will be interned in the columbarium at Grace Church in Amherst, next to Harry, at a date yet to be determined by the family.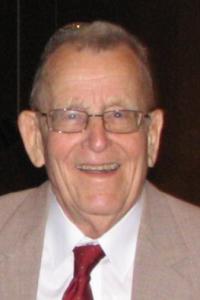 Leverett, Donald M. Stockwell, 98, of Groton MA, formerly of Leverett MA, passed away peacefully on November 4, 2016 after a long and courageous battle with Alzheimer's. Born in Springfield MA on April 16, 1918, he grew up in various locations including Amherst NH which he considered his boyhood home. He lost his father William Stockwell to influenza when he was an infant and was raised by his mother Florence Beechler Harris. After attending boarding school at St. Bernard's School for boys in Gladstone NJ, he went to the University of New Hampshire where he played freshman football and graduated with a B.S. degree in civil engineering. He was a veteran of World War II where he was a Technical Sergeant in Gen. George Patton's Third Army. He fought in the Battle of the Bulge and received five battle stars and a bronze star. He was honorably discharged on November 30, 1945.
He engineered dams for the USDA Soil Conservation Service and lived in Washington DC, Amherst NH, Havertown PA, and Boylston and Leverett MA. He was proud to have designed a farm pond for President Eisenhower. While in Washington DC, he met his first wife Dorothy Edna Shapland, a captain in the US Marines to whom he was married for 35 years. After Dorothy's death in 1982, he married Patricia Dubuque Cook, who passed away after twenty years of marriage in 2004. He sang in the Leverett Congregational Church choir, was a church deacon, and a volunteer fireman in Leverett. He loved traveling around world, hiking, skiing, singing, and playing his harmonica. He also enjoyed camping and RVing throughout the United States and wintered at Fun n Sun RV Resort in San Benito TX for many years.
He is survived by his two daughters, Marjorie Bibeau and her husband Thomas of Broad Brook CT and Nancy Stockwell-Alpert and her husband Andrew of Sudbury MA. He has three grandchildren, Robert Bibeau and his wife Megan of Lexington Park MD, Timothy Bibeau and his wife Michelle of Glastonbury CT, and Erica Stockwell-Alpert of Medford MA. He has four great-grandchildren, Samuel, Kiera, Giuliana, and Thomas. He is also survived by two stepchildren, Alison Kyne of Shrewsbury MA and George Cook of Scituate MA.
Donald had a love of life, a great spirit of adventure, and was loved by family and friends, including the entire staff and the residents of RiverCourt Residences, the assisted living community in Groton MA where he resided for the 12 years prior to his death.
A memorial service is being planned at the First Congregational Church of Leverett MA, date to be announced. Private interment will take place in Amherst NH at a later date for the immediate family. In lieu of flowers, a donation in Donald's name may be made to the First Congregational Church of Leverett, MA.
Doris G. (Lamontagne) Aldrich, 84, of 17 Jones Rd, Pelham, passed away Wednesday Nov. 02, 2016 at home. Doris was born June 22, 1932 in Easthampton MA to the late Theodore and Georgiana Lamontagne. Doris graduated from Northampton high school and was a Bookkeeper for many area companies.
Doris was best known as a top breeder of Pugs under her kennel name Kendoric Pugs. Doris traveled internationally showing her Pugs and was very active in many local and national pug organizations. She was a founding member of both the Yankee Pug Dog Club and Patriot Pug Dog Club. She held several Officer and Board positions in both clubs. Doris was also a member of Pug Dog Club of America and in 2010 was granted Lifetime membership. She was also a member of the Classic Toy Dog Club of Western Mass and the Pioneer Valley Kennel Club for many years. One of her greatest accomplishments was the co-founding of Pug Rescue of New England in the late 80's with her good friend Fran Stuart. Doris was also an avid Patriots fan and enjoyed watching the games with her good friends Yvonne Mullen and Sharon Howard.
Doris is predeceased by her husband of 57 years Kenneth Aldrich who was very active in her Pug related activities. She survived by her son Robert (Rick) Aldrich and his wife Brenda of Belchertown, granddaughter Andrea Miles and her husband Charles of South Hadley, grandson Brian Aldrich and his wife Lisa of Newfields NH, great grandchildren Quinlan, Paige and Aiden Randall of South Hadley.
The family would like to extend thanks to the staff at Elaine Center of Hadley and the VNA & Hospice of Cooley Dickenson.
At Doris's request there will be no calling hours or funeral. A private memorial service will be announced at a later date.
The family requests donations be made in Doris's memory to either:
VNA & Hospice of Cooley Dickenson, 168 Industrial Drive, Nothampton MA 01060 or Pug Rescue of New England, PO Box 441667, West Somerville MA 02144-1667.
Martha Elizabeth Birkmeyer (Nee Cofer) of Ft. Lauderdale Florida, passed away peacefully at her daughter's home on October 31st, 2016, at the age of 94. Born and raised in Atlanta Georgia, she was the youngest daughter of Thomas and Ruby Cofer. She graduated from Commercial high school and she was a very accomplished trombonist placing 1st chair in the state orchestra her senior year. She also performed many summers with the girls orchestra group the Georgettes. Martha had a very successful career as an executive sectary at the department of housing and urban development for many years before moving to Cincinnati Ohio with her husband Raymond Birkmeyer where she and Ray ran complementary businesses. After Raymond passed, she remarried Benjamin Staton from Cary North Carolina. She was also a proud and loving grandmother, and is survived by her daughter, her son, her sister, her niece and four grandchildren. All who knew her will dearly miss her love of life, her warmth and kindness.
Greenfield, Howard B. Main of Arbors in Greenfield, MA passed away on October 27, 2016. He leaves his wife Beverly Main of 66 years, a son Jeffrey Main of Southern Pines, NC, and a daughter Debra Main of Ojai, CA. He leaves two granddaughters and several nieces and nephews. Born in July of 1927 in Amherst, he attended Amherst High School and later became a carpenter with his father and uncle. Howard took over the family business after his father passed and continued remodeling and building new homes in the Amherst and surrounding areas.
Howard enjoyed bowling, golfing and fishing. He and Beverly were members of the bowling league for several years. He enjoyed golfing at the Amherst Golf Club and was on the Board of Directors there. Later he joined Hickory Ridge Country Club in Amherst and was on the Board of Directors there also. He was a 60 year member of the Amherst VFW Post #754 and did volunteer to help build the addition to the club and help the VFW build a cook's cabin at Camp Chesterfield for the Boy Scout Camp. He spent many hours playing pitch and other card games at the VFW, not to mention, horse shoes and table shuffleboard. Howard was an Amherst Town Meeting Member as well as an Amherst Auxiliary Policeman. He served in the Merchant Marines in World War II and later drafted in the Army and served in the Korean War.
In 1986 Howard and Beverly moved from their home in South Amherst to Pine Valley Plantation in Belchertown. In June of 2016 Howard and Beverly moved to the Arbors in Greenfield where Beverly still resides.
Calling hours will be Tuesday, November 1, 2016 from 4-7 pm at the Douglass Funeral Service, Amherst. Funeral services will be Wednesday, November 2 at 10:00 a.m. also at Douglass Funeral Service; burial with full military honors will follow the service at South Amherst Cemetery.
In lieu of flowers, donations may be sent to the Belchertown Senior Center, 60 State St., Belchertown, MA 01007.
Amherst, Jose Manuel Rodriguez, 31, of Amherst passed away on Oct. 15, 2016.
He was born September 15, 1985 in Rio Piedras, Puerto Rico, the son of Jorge Rodriguez and Nilsa Delgado.
Jose is survived by his children, brother and sister.
Jose was a loving father, loyal friend and caring brother and son. He enjoyed fishing, four wheeling, cooking, skiing and spending time outdoors.
He had a contagious laugh and you always saw him smiling.
A Memorial Service will be held at 11:00 AM on Tuesday October 25, 2016 at The Wesley United Methodist Church in Hadley.
Amherst, Howard Bliss Leavitt of Amherst, MA died peacefully at the age of 95 after a wonderful life of two marriages, children, travel, and an international career spanning almost half a century.
Born in New York City, Howard spent his early years in Beirut, Lebanon as the son of the president of International College, a prep school associated with the American University of Beirut (AUB) which had been founded by his great grandfather in 1866. Howard came back to the US for a year at Vermont Academy and then on to Dartmouth College, from which he graduated early after the outbreak of World War II. Just after joining the Navy, Howard married his college sweetheart Margaret Mentzer and was soon sent, as a Communications Officer, to the Pacific island of Saipan where he witnessed the flyover of B-29's on their way to Japan. After the War, Howard earned Masters and Doctorate degrees in Education from Columbia University, and began teaching at Northern Illinois State Teachers College (now Northern Illinois University). Later, Howard and Margaret, along with three sons spent 2 years in Beirut where he taught at AUB, adding a fourth son for good measure. Returning to the US in the late-50's the family moved to the Boston area where Howard taught at Boston University. In 1962 he joined the US State Department in the Agency for International Development (USAID) where he spent a number of years in Washington and Rio de Janeiro, Brazil setting up and analyzing US sponsored educational projects around the globe. Recognized as an expert in international education, he became the Coordinator of International Programs at Pennsylvania State University, soon followed by his return to Washington to work for the World Bank, under the leadership of Robert McNamara. Howard completed his career as a visiting professor at the University of Massachusetts, Amherst.
Throughout his life Howard loved independence, intellectual accomplishment, and adventure. Along with wife Margaret and his sons he was an avid mountain climber, camper, cave explorer, and power boater. He wrote and published dozens of academic works and wrote and/or edited several books, including First Encounters, Native Voices on the Coming of the Europeans in 2010. In his later years Howard became interested in creating art and over a 20 year span produced wonderful oil paintings.
After the death of Margaret, in 1997 in Amherst, Howard met and married Joan Ibish, herself an accomplished academician. Together they toured the world from China to the Mediterranean, spending summers at the Leavitt compound on Pine Island in Lake Winnipesaukee, NH
Howard was predeceased by wife Margaret and son Ken Leavitt (Tina). He is survived by wife Joan, sons Hunt Leavitt (Hilary), John Leavitt (Judy Norton), and Don Leavitt (Todd Paine); grandchildren Sarah Leavitt (Kevin Postma), Ben Leavitt, Jennifer Tietjen (Garrett), Lydia Leavitt, Vivian Leavitt, and Christopher Leavitt; two great granddaughters, both named Caroline.