Posts Tagged 'Rosalie Mikalunas, Rosalie Mikalunas obituary, Funeralworks Obituary, Douglass Funeral Service'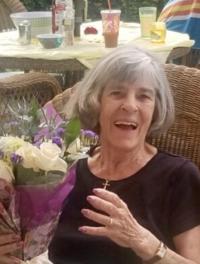 Rosalie Mikalunas passed away peacefully on Sunday, January 8th, 2022 at the Hospice of the Fisher Home in Amherst. Rosalie was born in Holyoke, Ma on February 6, 1949; her fathers birthday, the daughter of Joseph and Mary (Pento) Vassallo. Her childhood was spent growing up in Pelham along with her seven brothers and sister. Rosalie was a graduate of Amherst Regional High school, Class of 1967.
Rosalie married Robert Miklaunas on April 26, 1969.
Rosalie had a passion for baking. For 26 years Rosalie worked as the Head Baker at Wildwood Elementary school. Along with the children, family and friends enjoyed the benefits of Rosalie's joy in baking. Brownies and cookies were made by the dozens. She challenged anyone to make a better Chocolate Chip Cookie. And a challenge never included less than 6 dozen for all to enjoy!! When not in the kitchen, Rosalie could be found watching her Blue Birds in the back yard, a true haven for the birds where family, upon family of blue bird found refuge and unlimited food. Above all Rosalie loved spending time with her cherished granddaughters Makenzie and Mikayla Mikalunas.
Sadly, Rosalie was predeceased by her two sons, Robert on March 15, 2021 and Michael on May 10, 2009. She is survived by her beloved husband of fifty-two years, Robert, her two sweet granddaughters, Mikayla and Makenzie Mikalunas and their mother Kelly Egan, along with sister Carol (David) Orrell; brothers, John (Trish) Vassallo, Michael (Kathy) Vassallo, Robert (Lynda) Vassallo and sister-in law Helen Vassallo. She was pre-deceased by brothers Joseph, Angelo, Paul and Richard Vassallo and many nieces, nephews and cousins.
Private services will be held at Douglass Funeral Service. Friends are invited to attend a graveside service on Friday Jan. 14, at 10:45 AM in St. Brigid's Cemetery, Hadley. Memorial guestbook at www.douglassfuneral.com