Posts Tagged 'ELAINE FLIGMAN, ELAINE FLIGMAN obituary, Funeralworks Obituary, Douglass Funeral Service'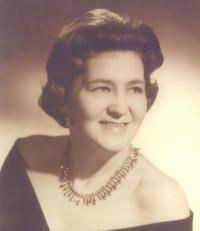 Elaine Fligman
1923 – 2012
Amherst, Elaine Fligman, 89 of West Street in Amherst, passed away peacefully at the Center for Extended Care in Amherst. Born on March 2, 1923 in New York City, she was the daughter of Samuel and Sylvia Gordon, who were immigrants from Eastern Europe. Elaine died from complications arising from a fall and a broken hip.
A precocious young girl, she demonstrated an exceptional talent as a singer at a very early age and singing was her passion to the day of her death. She entered Brooklyn College at age 15 and graduated four years later with a degree in French. In 1943, her first job was at the Sperry Gyroscope Company, a sort of Rosy the Riveter from Brooklyn. When WWII ended and the troops came home, most of the women that worked in the defense industries were forced to seek other employment. Elaine went back to school, received a Masters Degree in Education and taught 1st grade in a private school in Manhattan for some thirty years.
Although teaching was her profession, her first love was singing. While at Brooklyn College she joined a comic opera group that specialized in Gilbert and Sullivan. When her cohort graduated they wanted to continue doing G and S and formed the Brooklyn Savoyards, a group that performed all of the major operettas. By this time, Elaine's singing skills had matured and her rich contralto voice was ideally suited to the contralto roles in Gilbert and Sullivan. Her favorite role was as Katisha in the Mikado and it was in a production of the Mikado that she met Benjamin Fligman, recently discharged from the Army. Ben, who was himself an immigrant from Russia, came from a family of cantors. He had a beautiful tenor voice, albeit with a slight Eastern European accent. Tenors, then as now, were hard to come by and he was cast as Nanki Poo. They hit it off immediately and they were married in 1947.
Elaine and Ben formed a duet and sang professionally in the summers at the hotels in the Catskills. It was truly a romance made in heaven and they remained totally devoted to one another for 36 years until his death in 1983.
At this point Elaine entered Act II of her life. She moved to Amherst in 1987 to be close to her brother, Glen Gordon, and his family. Glen was a long term resident of Amherst and a professor of Political Science and administrator at the University of Massachusetts. Elaine found Amherst to be fertile ground for her talents and interests. She almost immediately joined the chorus of the Valley Light Opera. She also sang with the University Women's Chorus. Her life changed dramatically when she joined the Young at Heart Chorus. For a person whose longest trip was from Brooklyn to the Catskills, she suddenly became a world traveler, going with the group to perform as one of the lead singers in concerts all around the world.
She developed a problem with blood circulation in her legs that made the travel schedule of the Young at Heart Chorus too stressful for her. Now in her mid-eighties, she returned to her first love, Gilbert and Sullivan and auditioned for the Valley Light Opera. They created cameo roles for her in The Pirates of Penzance and Iolanthe as Queen Victoria and Queen Bess. She loved the opportunity to be back on stage singing the music that she loved so much.
Her idea of a wonderful day was to go to a folk dancing class at theBangs Center in the morning, have lunch there, and do crossword puzzles with her companion, Warren Bechtold. Elaine and Warren were inseparable and ironically both wound up at the Center for Extended Care.
Elaine did not have children of her own, but she doted on her nieces and nephews. She leaves her brother, Glen Gordon, his wife Nelly, their three daughters Vivian, Elena and Lillian, their children, Alicia, Nathaniel, Robert and David and her very special nephew Frank Fox and his family. She also leaves behind many friends inAmherstandNorthamptonwhose lives she touched deeply.
In lieu of flowers, the family asks that any donations be made to the Valley Light Opera, PO Box 2143, Amherst, MA 01004 and the Young at Heart Chorus, 240 Main Street, Northampton, MA 01060.
Calling hours will be on Saturday, December 1st, from 3 to 5 p.m. at the Douglass Funeral Service, Amherst. Obituary and memorial register at www.douglassfuneral.com.
Service details, Social networking, Memorial Guestbook and Slideshow are available here.